Firm picked for £52m job to create new woods and wetlands on railway's phase 2a
Balfour Beatty has been handed the first HS2 contract for construction work on the railway north of Birmingham.
It has been appointed to create new woods and wetlands as part of early environmental works on the route between Birmingham and Crewe – also known as phase 2a.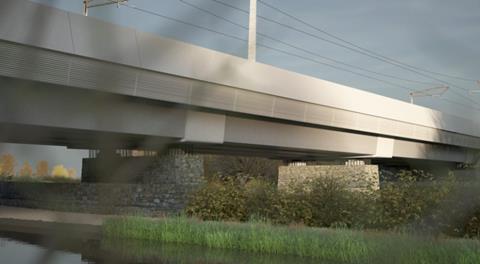 The £52m early environmental works contract follows this part of the line being approved in February this year.
The 36-mile stretch of phase 2a is planned to open alongside the first section of the railway from London to Birmingham.
The environmental works will take place at 82 sites running north from Fradley in Staffordshire and will include tree planting at over 40 sites, more than 18 miles of new hedgerows and dozens of new grassland meadows.
Meanwhile, HS2 has revealed images of its planned Oxford canal viaduct and has asked the local community to comment on its plans by the end of the month.
Drawn up by bridge specialist Moxon Architect, the structure is one of 15 planned across the central section of the line. Others to have worked on the design include Arcadis, Danish engineer Cowi and French engineer Setec.
Set low in the landscape, three prestressed concrete spans will take the railway 62.5m across the canal, towpath and a country lane near the village of Wormleighton in Warwickshire.
It will be built by a team made of Eiffage, Kier, Ferrovial and Bam Nuttall.