But firm cancels final dividend and warns future performance depends on improving productivity
Balfour Beatty has said more than 80% of its sites across its UK and US strongholds were open last month but warned the covid-19 pandemic has had a "material impact" on its financial performance which is seeing the firm cancel its annual dividend.
Around £6bn of the firm's £8.4bn turnover was from the UK and US last year with a further £900m from its Hong Kong business Gammon in which it has a 50% stake.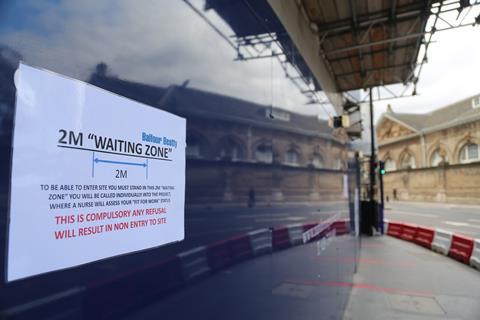 In a trading update this morning, the country's biggest contractor said 83% of sites were up and running last month in the two countries with 78% staying open in April – when much of the industry in the UK shut down because of the lockdown.
But it said nearly 1 in 5 of the sites that did stay open "experienced significant disruption due to the availability of employees, subcontractors or materials".
And it added that its performance for the rest of this year depended on improving current productivity, which it said was reliant on the availability of employees, subcontractors and materials, "and ensuring satisfactory contractual resolution on projects impacted by covid-19".
The firm has also set up a New Normal Taskforce which has generated over 450 ideas from employees covering areas such as new markets and returning to work.
Its sites in Scotland, where non-essential construction work was stopped, and London, which saw public transport scaled back dramatically, were the most affected regions in the UK, while in the US its most affected areas were Florida and the state of Washington ion the Pacific North-West.
It said its first quarter trading this year had been "strong" but added: "Thereafter the impact of covid-19 and the resulting lockdown have had a material impact on financial performance across all divisions."
The firm said it was cancelling a final dividend payment of 4.3 pence per share, which had been expected to cost around £30m, although it will be telling preferential shareholders that it will redeem in full the £112m of preference shares due on 1 July.
The firm's order book at 30 April was £17.4bn, up from £14.3bn last year, as it finally booked over £3bn of HS2 contracts after contractors working on the stretch between London and Birmingham were given the green light by the government.
Balfour Beatty's postponed AGM will now take place on 25 June.