Contractor exits mainland Europe as profit falls 70%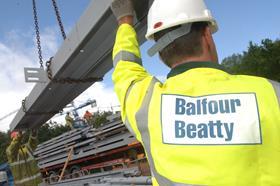 Contractor Balfour Beatty has announced it is to sell its mainland Europe business as it reported full year results showing pre-tax profit down 70%.
The intention to sell its mainland Europe business, which delivers rail projects across the continent, comes amidst further restructuring at the firm, which reported like-for-like revenues down 4%.
In addition the infrastructure and construction giant said it revenue in its UK construction business to shrink by 20% in 2013, beyond a 6% fall this year, given the deepening impact of government austerity measures.
In total revenue including joint ventures for the year to 31 December 2012 was £10.9bn, delivering a reported pre-tax profit of £75m, down on the £243m reported in 2011. Profit was hit by a £235m one-off write down, of which £104m resulted from the decision to sell the European rail business.
The firm, which has set out a strategy to focus on key international infrastructure markets where it sees growth, said "underlying" pre-tax profit, before the exceptional charge, was down 7% to £310m.
The firm said in a statement that: "The operational and strategic review of our Mainland European rail business, which we started in the fourth quarter, has concluded that maintaining a rail presence in Mainland Europe is not consistent with our strategy ….
"In Mainland Europe, we essentially operate only in rail. Therefore, we will be divesting of all of our Mainland European rail businesses through a process that ensures that the businesses and their customers continue to receive full support."
The results show that the firm spent £61m on restructuring the business, including its decision to reduce its UK construction business from 75 offices to 37. The £61m restructuring costs, including £34m in the UK construction services business, comprise £20m of redundancies.
However, it said it saved £36m in 2012 from the changes, and will make combined annual savings of £80m by 2015.
Its construction services business, which includes both UK and US businesses, reported revenue of £7bn in 2012, 1% down on 2011, and made an operating profit of £122m, down 28%.
But when costs of the firm's restructure, plus the sale of the European rail business are taken into account, the construction business reported a loss of £37m, down from a profit of £141m in 2011.
In the UK the firm said it had seen a "significant shift" from major projects to its lower margin regional building and civils businesses, which take on smaller work. It said "We saw overall profits reduce. This was largely a consequence of lower margins in the regional businesses as a result of tightening markets and was exacerbated by delivery margins being impacted by rising subcontractor defaults."
The firm blamed the lack of growth in its energy business on the government's failure to implement energy market reform.
The firm added that it has won a £130m contract to build two miles of the Crossrail route and the new Abbey Wood station from Network Rail. The contract will see the firm replace Abbey Wood's two existing platforms, install two new dedicated Crossrail lines from the station to the Plumstead portal, and modify several bridges along the route.
Chief executive Ian Tyler said the results "demonstrated resilience in underlying earnings and a stable order book in the face of continuing challenging conditions in the construction markets in the UK and USA."
"While we still believe that construction markets in 2013 will be challenging, our actions to date and ongoing strategic focus on growth markets position us well for the medium term."