Return to normal margins could take three more years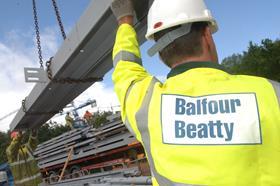 Balfour Beatty's construction arm racked up a £280m operating loss last year, as problem jobs continued to drag down the firm.
The major loss in the construction division compared to a £391m operating loss in 2014. Overall the firm posted a £199m pre-tax loss, reduced from a £304m pre-tax loss the previous year.
Speaking to Building, Balfour Beatty chief executive Leo Quinn refused to rule out a further loss this year, and said the firm might not return to making "industry standard" margins until 2018, which he said meant 2-3% margins in construction.
Balfour cleared 60% of its problem jobs in 2015 and expects to have completed 90% by the end of this year. But as a result, Quinn said the firm's 2016 results would "still be impacted" by losses on problem jobs.
Asked if Balfour Beatty would return to profit this year, he said: "I wouldn't like to forecast - the industry is full of surprises, including positive surprises."
Balfour made £76m of writedowns in 2015, including £23m on restructuring costs from redundancies and office closures under its Build to Last transformation programme.
Despite the continued losses, Balfour expects to reinstate a divided for shareholders when it announces half-year results for the first half of 2016 in August.
Quinn said that while trading losses had continued, the firm now had "one of the sector's strongest balance sheets", after smashing its target of bringing £200m of cash into the business by 2017, improving its cash position by £357m last year alone. The firm's net cash position now stands at £163m.
Stripping out exceptional costs, the firm returned to a £14m operating profit in the second half of the year.
Overall revenue dropped 4% to £7bn, down from £7.2bn. Construction services revenue – which covers the UK and US – fell to £5.2bn, down from £5.4bn.
The firm's support services and infrastructure investment divisions returned an operating profit, of £11m and £112m respectively, while corporate activities posted a £35m operating loss.
Balfour's order book dipped to £11bn in 2015, down from £11.4bn, reflecting a more selective bidding approach.