Quinn refuses to rule out office closures and redundancies as he lays out turnaround plan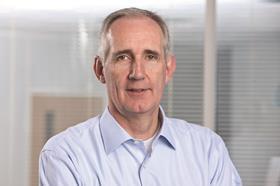 Balfour Beatty chief executive Leo Quinn has admitted the construction group's results today make for "horrible" reading, after problem jobs and dire M&E results in the UK dragged the firm down to a £304m pre-tax loss.
Speaking to Building, Quinn said he could not rule out the possibility either that in six to twelve months results could get worse still or that the firm may have to make a further writedown on the value of UK construction contracts over that time period.
This morning the firm made a further £118m writedown prompted by UK construction losses "following an assessment of the existing risk provisions by the board".
Commenting on the results, Quinn said: "They're horrible and not a good output for our employees and shareholders. I hope that would be the worst [but] you have to hope for the best and plan for the worst."
On whether there may be futher writedowns, Quinn said: "We're looking at the whole portfolio. £8.9bn [turnover] is a big big company. We know there are uncertainties [but] I'd be disappointed if that was the case."
Quinn also declined to rule out that the firm's 'Build to Last' efficiency programme will not include redundancies and office closures in the UK as the firm attempts to cut £100m from its £500m global overheads. He said the majority of the savings would come from "natural attrition".
Quinn said he had "confidence" in the management team responsible for turning around the UK construction divisions with the biggest problems - the M&E division known as engineering services and the regional business - including Nick Pollard, who was given responsibility for overseeing the two divisions earlier this year, and Mark Hoyland, managing director of engineering services since October.
Commenting on problem jobs in these divisions, Quinn added: "The contracts are challenge but will be resolved in the next 24 months, with the majority in 12 months. It will be systematic, one contract at a time."
He said the firm had put "bid processes in place" to ensure similar problems did not arise on future contracts.
Quinn added: "This is a large company, with £8.9bn of revenue and 36,000 employees. This is a complex transformation and this is very very early days. There are an awful lot of uncertainties out there. [But] these problems will pass with time."
Quinn said his priorities for the futhure were building Balfour Beatty "into a world class company", making it "the best employer so that people want to come here" and ensuring workers' safety on sites.
Quinn joined Balfour as chief executive at the start of this year, after the period covered by this set of results.