Troubled contractor issues trading update ahead of its annual general meeting today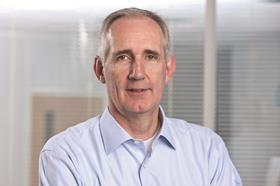 Balfour Beatty's chief executive Leo Quinn has said the contractor is still facing "major short term challenges", in a trading update to investors issued this morning.
Quinn (pictured), who joined Balfour at the start of this year, said the firm was focussed on delivering its 'Build to Last' turnaround programme, designed to address problems at the contractor that have contributed to two years of bad financial news.
Balfour's initial targets are to generate £200m in cash and take £100m of cost out of the business over the first 24 months of Build to Last.
The statement added: "At the same time, the leadership team continues to review the Group's businesses and manage the legacy problem construction projects through to completion."
Quinn said: "We are making progress as we work to deliver the initial phase of the Build to Last transformation programme, against a backdrop of major short-term challenges. The internal focus on cash is vital to maintain a strong balance sheet through self-help.
"At the same time, we see continued evidence that we retain the support, trust and confidence of our customers in Balfour Beatty's expertise. I continue to believe all our operations should achieve industry-standard performance against what appears to be a beneficial market environment."