Bam's UK contracting business also snaps up £73m Manchester office scheme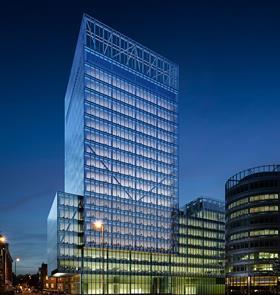 Bam Construct UK has reported a dip in pre-tax profit for the 2014 calendar year in snapshot results published this week.
The firm - the UK contracting arm of Dutch construction giant Royal Bam - said in a statement that it posted pre-tax profit of £6.6m in 2014, down 39% on £10.9m in 2013. Turnover rose 6% to £886m, up from £839m.
Bam Construct's full results are not yet available at Companies House.
The news came as Bam was appointed contractor on a £73m new-build office development in Manchester.
The No 1 Spinningfields project (pictured) on Manchester's Quay Street will cover 260,000 sq ft and rise to 24 storeys. It has been designed by Simpson Haugh & Partners. Work commences next month.
In a statement accompanying the firm's snapshot results, Bam Construct chief executive Graham Cash said he believed "the industry is at last emerging from recession", describing 2014 as "an eventful year for construction with many major contractors changing the shape of their businesses by retreating from parts of the market, closing offices, or divesting particular business streams and changing their senior personnel."
Cash said the business' property development and facilites management businesses performed well during the year. He said: "The commercial property market revived in 2014. Bam Properties achieved considerable success letting and selling the portfolio of offices that it has developed in recent years.
"Our facilities management business now has a total FM capability."
Cash said an "important goal" for the company in 2015 would be securing a place on the Department of Health's major projects framework.
In February Royal Bam reported that its overall UK business posted a €3.4m (£2.5m) loss for the 2014 calendar year, after posting a €19.6m (£14.5m) profit the previous year. The 2014 UK loss was attributed to problems on an undisclosed UK civils project.
Bam Construct is the contracting part of Dutch construction giant Royal Bam's UK business. The other part of Royal Bam's UK division is civils business Bam Nuttall.