Firm forced to start from scratch on £65m unviversity scheme
Bam has said it is hoping to reach a settlement on the problem contract which blew a hole in its 2019 accounts after the firm announced improved pre-tax profits for last year.
The firm said profit was up to £13.7m in 2020 from £9.4m after that number was hit by a problem job it is building in Sheffield.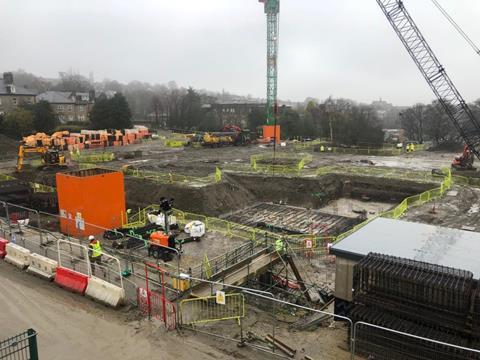 Bam has previously said the entire concrete frame for the University of Sheffield's Faculty of Social Sciences building, designed by HLM, would have to be torn down after problems were discovered with the piling.
Last August, the firm said a review into the piling for the structure, carried out by original piling contractor Cementation Skanska and engineer Mott MacDonald, had concluded work on the frame needed to start again.
The £65m building is being built on a former reservoir at the junction of Northumberland Road and Whitham Road in the city.
The cost of the repair work is set to be more than £20m but Bam chief executive James Wimpenny said the scheme was now back on track. "We had to go back to square one. We are not clear of it [the contract] but we are hopeful of a settlement that's amicable to all parties. We need to work out responsibilities and liabilities."
Wimpenny said revenue this year would be north of £800m after turnover in 2020 slumped 15% to £793m.
The fall, which Wimpenny said was largely down to the effects of the pandemic, meant the firm was forced into a round of cost-cutting which saw 150 people leave and meant the firm shelled out £3.8m on redundancy payments with some of this figure including office moves in Scotland, London and the South-east. The accounts also show that it claimed £3m in furlough money from the government's Coronavirus Jobs Retention Scheme.
"We never envisaged to be making people redundant but if revenue drops you have to cut your cloth to suit the size of your business," Wimpenny added.
Bam, which earlier this year signed on the dotted line for a £250m arena scheme in Manchester following another high-profile deal at the end of last year, a £195m job to build new studios for broadcaster Sky in Hertfordshire, said work was coming back in fits and starts.
"Some jobs have parked up but others come back and surprise you. Is it any different to what normally happens?"
The firm is carrying out enabling works on another office block scheme, called S3, slated for Argent's King's Cross development in London while it is also working on several other jobs in the capital that are at pre-construction stage, including providing design advice on a planned Holocaust memorial set to be built in the shadow of the Palace of Westminster.
Wimpenny added that the introduction of last year's Construction Playbook by the government meant firms could start to hike margins north.
The playbook sets out its guidance on sourcing and contracting public works projects and programmes and Wimpenny said: "[Margins of] 3%-4% is where we'd like to be. The playbook makes the industry more sustainable in terms of margins because of the long-term view."