Scheme due to be built at former DIY store
Bam has been lined up to build another NHS Nightingale Hospital in Exeter.
The firm is working up designs with architect Stride Treglown with an instruction to start work on site expected as soon as this week.
Last month, the NHS's chief nursing officer for England, Ruth May, confirmed that a temporary hospital would open in Exeter in the coming weeks to tackle the coronavirus pandemic.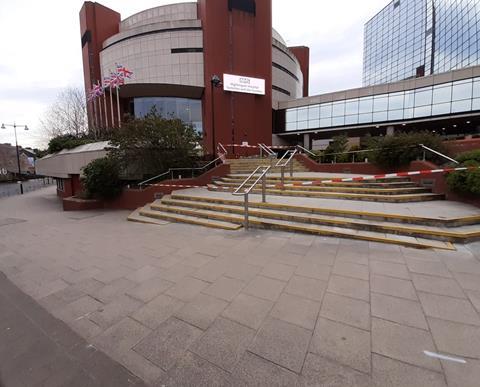 It was due to be built at the Westpoint Arena entertainment venue but has been moved to a former Homebase DIY store in the city which closed in September 2018.
But work has not yet started despite expectations that it would be ready by early May. It will eventually provide 200 extra beds for Devon, Cornwall and neighbouring counties.
The British Army is helping with logistics for the build, working alongside Bam which also built the NHS Nightingale Hospital in Harrogate (pictured).
A Bam spokesperson confirmed it was in discussions with the health department about the job.
Once it gets built, the hospital will be run by the Royal Devon and Exeter NHS Foundation Trust.
According to the latest figures released by Public Health England, the number of coronavirus cases in the South-West stood at 6,571 as of Monday evening – the lowest of all England's regions.
The worst affected regions are London with 24,988 cases and the North-West with 20,428.
Yesterday, it was reported that the Nightingale hospital in London will shut next week after treating a small number of patients.
It will be mothballed in case a second wave of covid-19 infections emerges. Originally planned to have 4,000 beds, the east London hospital has treated just 54 patients since it was opened by Prince Charles at the beginning of April.
Other Nightingales that were opened to stop hospitals being overwhelmed – in Manchester, Birmingham, Bristol and Harrogate – will also be wound down.