Firm blames covid and problem job in Germany for slump
Bam's Dutch parent saw first half losses widen to more than £100m as the firm said the covid-19 crisis and a problem job in Germany kept it firmly in the red.
Last year, Royal Bam, whose UK businesses also include its civils arm Bam Nuttall, posted a pre-tax loss for the six months to the end of June 2019 of €27.2m (£24m) on turnover of €3.5bn (£3.1bn), up 7%.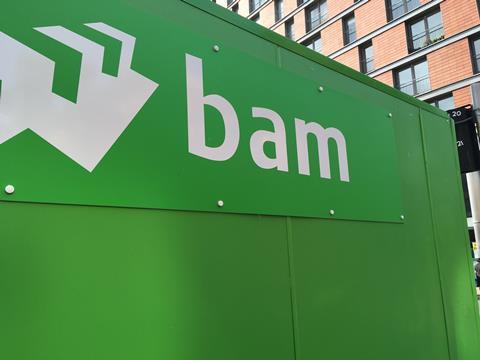 But the firm nosedived further into the red in the six months to this June, racking up a pre-tax loss of €134m (£119m) on turnover down 10% to €3.1bn (£2.77bn).
The results showed that its UK construction business sank to a €18.3m (£16m) loss in the first half.
The firm said this was caused "by a technical set-back on a project under construction, where BAM identified settlement issues. Given the uncertainty of the outcome of discussions involving the client, the expert subcontractors and the insurer, a provision was recognised in the first half of 2020."
Revenue at the division was down 20% to €392m (£347m) but Bam Nuttall fared better, posting a profit of €13.2m (£11.7m) on revenue up 16% to €454m (£402m).
Bam said: "Revenue in the United Kingdom grew, mainly driven by government contracts for rail and highways."
Royal Bam said last month it was shutting its 600-strong Bam International business which carries out jobs outside its core European markets including Africa, Asia Pacific and North America.
And it said it was cutting 150 jobs at Bam Construct, around 6.5% of its UK staff, with the wider group having seen its revenue slump €360m (£320m) – a 19% fall – in the second quarter on the same period last year.
Royal Bam said: "Based on current market and covid-19 conditions and the strong order book, Bam expects a positive adjusted result before tax for the second half of 2020."
It said first half results had also been hit by a €56m (£50m) loss at its Bam International arm, where the winding down of that business has begun, and a €36m (£32m) settlement at its German business following a fatal accident on the Cologne metro its German Wayss & Freytag tunnelling arm helped build 11 years ago.
It added that its Dutch civils business had also underperformed but said its Dutch construction and property businesses and PPP arm had performed well.
Interim chief executive Frans den Houter, who is also the chief financial officer, is due to be replaced by Ruud Joosten, the chief operating officer of Dutch paints and chemicals business AkzoNobel, at the beginning of next month.