Contractor will open up Leeds Playhouse and build new theatre in venue's cellar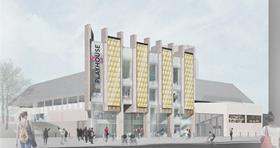 Bam has been appointed by Leeds city council for a £15m redevelopment of Leeds Playhouse (pictured), designed by Glasgow-based architect Page/Park.
The two theatres which make up the Playhouse opened originally in 1990, the-then largest purpose-built new theatres since London's National Theatre in 1976.
But they suffer from poor disabled access and need new entrances and more open spaces.
Bam construction director Jason Pink said the team would be building a new theatre in the undercroft and conducting enhancement and access works around the other two existing theatres.
"It's a complex refurb with numerous small spaces that feel like a rabbit warren," he added.
Last week Bam said its UK operation posted a 37% hike in pre-tax profit to €25.6m (£23m) in the first six months of 2018 on turnover down 1.4% at €910m (£808m).