Exclusive: Bam to embed BIM across its global operations, with technology to be used on every UK project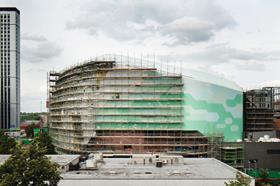 Bam has signed a €3.5m (£2.8m) contract with software firm Autodesk to provide Building Information Modelling (BIM) technology across its global operations, including all Bam projects in the UK.
The three-year agreement between Royal Bam Group and Autodesk will give Bam access to a range of Autodesk BIM solutions including design, construction, analysis, collaboration, data management and cloud services. Autodesk will also provide support as well as strategic business consultancy.
Speaking to Building, Chris Gilmour, Bam Construct design & marketing director, said the deal would see BIM embedded on "every project we win", across Bam Construct and Bam Nuttall's UK operations. "Not just special projects – no matter how big or small the project, we will be fully embedding BIM," he said.
He said the deal had emerged after several years of working with Autodesk and followed the contractor's decision 18 months ago to roll out BIM across its operations.
He said Bam's first major scheme to fully use BIM was the £60m Leeds Arena project (pictured), which had led to cost savings of £350,000 as well as a reduction of 15,000 man hours on the project and an 8% reduction in material wastage.
He added that using BIM on the project had enabled the firm to identify problems in the design that, if not discovered, could have cost "upwards of £400,000" to resolve on-site.
He said that using the software had also enabled the contractor to massively reduce the travelling undertaken by staff, with meetings between various parts of the design and build team able to be conducted remotely, through the web-based BIM modeling service. "Now that is also good for our sustainability performance," he added.
He said the deal would give Bam the latest cutting-edge software "on tap" as well as training and consultancy services from Autodesk that would help the contractor to continually improve its performance.
"In its simplest form we want to be able to build a building in a computer first and in that way iron out any errors so we don't make errors when building on site. And for a client that means a more efficient service," he said.
Gilmour called for the introduction of a BIM accreditation system across the industry that would set a standard to enable clients to assess a contractor's BIM proficiency.
"A lot of people are good at talking about BIM but not really driving forward with it – introducing a BIM accreditation would help move the industry forward," he said.