New images released of RMJM-designed laboratory on day BAM tops out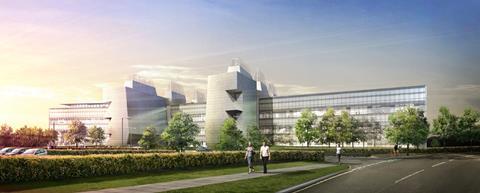 The RMJM-designed Medical Research Council Laboratory of Molecular Biology in Cambridge is topping out today.
Andrew Lansley, local MP and secretary of state for health, will perform the 'topping out' of the building, due to open in 2012. David Willetts, universities and science minister will also attend the event.
The 30,000 m2 building, being built by BAM Construction with RMJM working in partnership with BAM design practice, will cost around £200m and provide space and facilities for more than 400 researchers.
The laboratory has about twice the size of the current building. The design of the new LMB is reminiscent of paired chromosomes, with two long laboratory wings joined by a spacious atrium, encouraging interaction and easy navigation and containing seminar rooms and a lecture theatre.
Sculptural plant towers each side of the building will keep weight and vibration away from the laboratory areas. The building has been designed for flexibility for the future and to provide space for specialist equipment and facilities as they are developed.