Dutch company's UK arm saw revenue and profit fall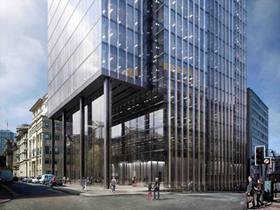 Bam's Dutch parent company saw UK construction profits and revenue fall last year, largely as a result of the weaker pound.
The company's UK arm saw an 11% fall in revenue to €1.9bn (£1.65bn) from €2.1bn (£1.9bn) in 2016.
This was mainly because of a slowdown in the non-residential construction market, particularly in the London area.
The firm said its UK civil engineering business, which operates under the Bam Nuttall name, was relatively stable, while Brexit was impacting the labour supply of its subcontractors.
Pre-tax profit in the UK – where Bam is getting underway with two office schemes in Birmingham including the tallest tower (pictured) going up outside London – also slipped by around 7% to €40m (£35m) from €43m (£38m) last year. This was attributed to the weaker pound.
The Royal Bam Group estimated changing sterling back to euros had cost the UK business around €142m (£125m) in booked revenue and €3.5m (£3.1m) in pre-tax profit.
The firm said its UK business had also been impacted by caution in the construction market and the absence of property development transactions.
The overall adjusted pre-tax profits at the group fell 38% to €63m (£55.8m), largely thanks to a €68m (£60m) loss at a scheme to build a lock at IJmuiden on the Dutch North Sea coast.
Chief executive Rob van Wingerden said: "We are disappointed that the project loss at sea lock IJmuiden set back our 2017 result by €68m and damaged our margin by 1% point. Apart from this, the majority of our activities performed in line with our expectations."
Its revenue fell by 5.3% from €7bn (£6.2bn) in 2016 to €6.6bn (£5.8bn) last year.