Foundry pub to be demolished by Christmas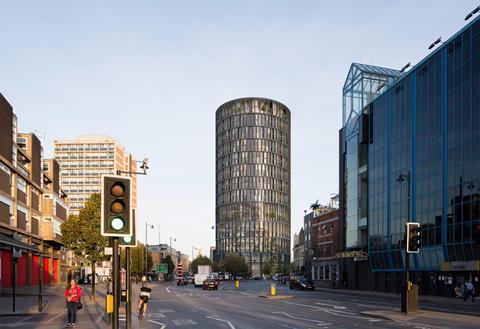 The developer behind a 22-storey hotel planned for the site of a famous Shoreditch bar has submitted detailed plans for how it will rescue two large Banksy artworks from the scene.
Preparatory demolition work is imminent for Squire & Partners' cylindrical Art'otel scheme – eight years after Hackney planners first approved it amid angry opposition from conservationists and locals.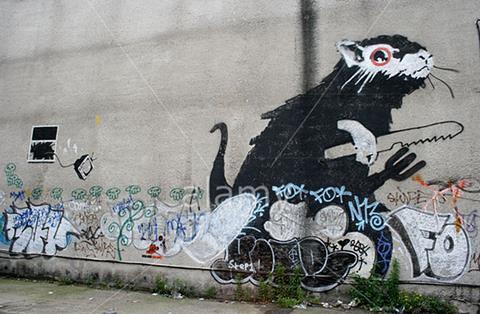 The 0.22ha site, at the tip of Shoreditch Triangle where Old Street, Great Eastern Street and Rivington Street converge, is home to a 1950s office building and the former Foundry pub described as "a crucible of the Britart movement".
The Banksy works are currently covered by hoardings on a back wall overlooking what was until recently the Last Days of Shoreditch bar and street food pop-up. The largest, a giant rat with a red eye, is about 6m high. Next to it is a smaller work showing a television being thrown out of a window while still plugged in.
The buildings are set to have gone by Christmas and the contractor has submitted details of how it will rescue the works by removing the wall from the floorplates and using two cranes to move it to the nose of the site where it can be safely stored until construction of the 300+-room hotel is complete. The works are due to be re-displayed in the new building.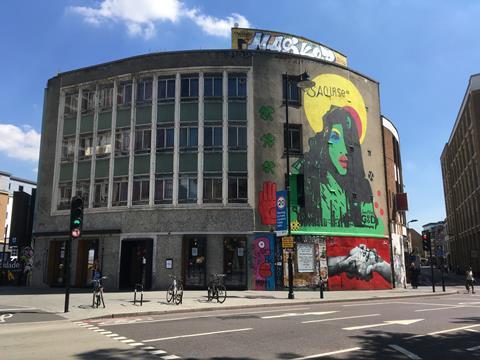 "The artwork will be contained within the structural frame envelope, with supporting stability frames, during this period," said the application to discharge final planning conditions with Hackney council.
London firm Gear construction is planned to start in the spring on the 100m hotel and adjacent four-storey building. The project will also include five floors of offices, a private members' club, retail, bar and restaurant uses, an art gallery and art cinema.
The hotel had a tortuous time getting through planning, with Cabe attacking a previous incarnation of the design in 2010 as "incongruous in its surroundings" and adding: "We think there are aspects of the design that preclude the current proposal from being the high quality building that is needed in this prominent location."
English Heritage said of the same design: "We believe that there is no justification for a tall building of this nature in this location… The proposals are a fundamentally flawed response."
Squires revised the design – removing the bronze-coloured cladding and adding a few storeys – and won planning again in 2015. The architect's website describes the consented building as the flagship London Art'otel.