Administrator FRP finds only £169,442 to pay trade creditors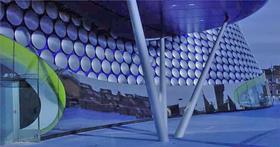 Cladding specialist Baris Group went under owing trade creditors £8.8m, according to a report produced by its administrator FRP.
Nottinghamshire-based Baris – which worked on the facade of Birmingham's Selfridges building – fell into administration on 5 February with the loss of more than 100 jobs.
FRP said it would not be holding a creditors meeting as it could not recover enough cash to pay unsecured creditors – which include trade creditors – beyond the statutory minimum pot of £169,442.
FRP said one of the main factors behind Baris' administration was the collapse of a suspended ceiling on one of its jobs in June 2012, resulting in "four major sites being closed down" and a period of poor trading, margins, cash resources and reserves.
The company pursued an insurance claim of £1.2m in respect of the collapsed suspended ceiling, but this was rejected on 18 January. Administrators were called in four days later on the 22 January.
Other contributing factors included the withdrawal of trade indemnity insurance by some of its insurers from 2012 and several project final accounts which failed to be settled as anticipated in the final few months of trading, the administrators said.
Baris specialised in cladding, curtain walling, windows, internal partitions and linings, and operated nationwide.
It worked on the 36-storey Leeds Plaza building, the £50m Liverpool central library project and a £35m research centre at the University of Bristol.