Vicarage Field plans will deliver new mall and 900 homes
Studio Egret West-designed proposals to redevelop an east London town-centre shopping mall with 900 homes along with retail and leisure facilities have won approval from local councillors.
The practice's outline plans, drawn up for real-estate fund manager Benson Elliot, would also see the 3.2 ha Vicarage Field Shopping Centre site turned into a 150-bed hotel, a 650 seat cinema, a music venue, a new primary school and space for start-up businesses. New retail space of 25,650 sq m of retail will also be built.
The outline plans feature homes in a range of buildings from five to 36 storeys. Four towers would be 19 storeys or more in height.
Benson Elliot retail director Peter Cornforth said the approval from Barking & Dagenham's Development Control Board had followed a full engagement programme with communities and the authority, which would continue as the plans progressed.
"This comprehensive redevelopment of the site will deliver new homes for the borough as well as a host of shopping, leisure and community facilities and up to 1,000 new jobs, all of which will significantly benefit the local area," he said.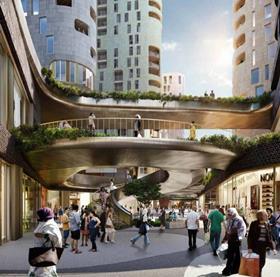 As part of the approval, councillors specified that the detailed design would have to meet a design code submitted as part of the application, which provides a framework for the yet-to-be specified elements of the scheme.
Borough planning officers said four letters of objection and four letters of support had been received following public consultation on the proposals, with the objections focused on the scale of the development and its impact on heritage assets, as well as questioning the need for the redevelopment.
Government heritage adviser Historic England said the proposals would cause a "significant level of harm" to the Abbey and Barking Town Centre Conservation Area, particularly the loss of a terrace of early 20th Century shops in Ripple Road and a 1930s health centre.