Housebuilder boss joining federation at a "crucial time" for the industry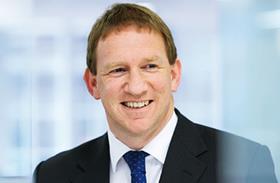 Barratt boss David Thomas has joined the board of the Home Builders Federation.
He has filled the slot left vacant by Taylor Wimpey's Peter Redfern, who left the HBF board earlier this year after completing his term.
Thomas (pictured), who recently took a swipe at extravagant executive bonuses in the housebuilding sector, said he was pleased to be joining the HBF at what was a "crucial time" for the industry.
"Housing is very high on the political agenda, government has very ambitious housing targets in place and there are huge challenges facing the industry around skills and quality," he said.
"The HBF does a very good job of representing the industry and working constructively with government and I look forward to working with the board to help tackle the issues facing our sector."
Earlier this month Thomas described the level of some executive remuneration packages in the housebuilding sector as "reputationally problematic".
Persimmon shareholders narrowly approved multi-million pound pay deals for chief executive Jeff Fairburn and other senior management figures, while the housebuilder said it had noted the 'concern' of investors.