Country's biggest housebuilder turns in record profit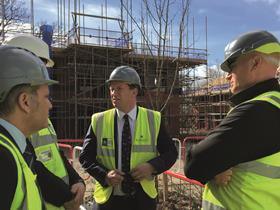 The country's largest housebuilder said it wants to build 20,000 homes a year after it completed its highest number of homes in the past decade.
Barratt said it is looking to grow volumes by 3-5% in the medium term and added that it has the capacity to build 20,000 homes under its current structure.
The firm completed 17,579 homes in the year to June 2018 with pre-tax profit jumping 9% to a record £835.5m on operating margins up from 17.2% to 17.7%. Revenue was up by close to 5% at £4.9bn.
Chief executive David Thomas (pictured, middle) said the number of homes target "reflected our confidence in the business going forward".
He added that market conditions remained good and said that Help to Buy, the government initiative to get first-time buyers onto the housing market, "continues to support robust consumer demand".
Barratt said it has booked a £4m provision for remedial cladding work it carried out at site – believed to be a block in Croydon, south London – in the wake of last year's Grenfell Tower fire. The figure is double the number the firm said it would spend in April.
It added that it has completed inspections of all its current and legacy buildings that have used cladding. "Approved inspectors signed off all of our buildings, including the cladding used," the firm said.
The cost of building homes is expected to tick up by 3-4% in the coming year but the firm said that it was improving efficiency by using alternative build options such as timber frames and light gauge steel frames.
Cenkos analyst Kevin Cammack said: "There is confidence in the statement and expressed targets which hold out a better prospect for growth."
Barratt is due to pay shareholders a £175m dividend in November. It is due to put out an update on trading since the year in the middle of next month.