Clare to step down as chief executive after nine years leading the housebuilder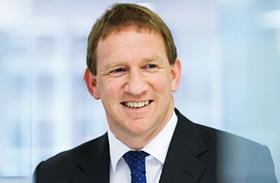 Barratt has announced that its finance director David Thomas (pictured) will take over as the housebuilder's chief executive from this July.
The firm said current chief executive Mark Clare will make way for Thomas to focus on "his non-executive career", but that he will remain with Barratt until October "to ensure an orderly handover".
Barratt said in a statement to investors that it had appointed Thomas after "conducting a thorough review, supported by external advisers who carried out a benchmarking exercise against the requirements of the role."
Thomas joined Barratt in 2009 and almost immediately orchestrated a rights issue that raised £720m, allowing the firm to "boost its land investment at the right time," the firm said.
Prior to joining Barratt Thomas was finance director and deputy chief executive of The Game Group, and previously finance director at Millennium and Copthorne Hotels.
Over nine successful years as chief executive Mark Clare almost doubled the value of Barratt as measured by market capitalisation, from £2.7bn to around £5.1bn as of this week.
Barratt said the recruitment of a replacement finance director was underway.
Thomas said: "I am delighted to be stepping up to chief executive and look forward to continuing to work with […] our industry leading management team. In the last few years we have been able to deliver considerable improvements in shareholder returns and we have a clear strategy in place to continue our progress."
Clare said: "After nine years leading the Group, now is the right time to hand over the reins. I am immensely proud of what the Barratt team has achieved, particularly the commercial transformation of the company and its reputation for quality, service and design."