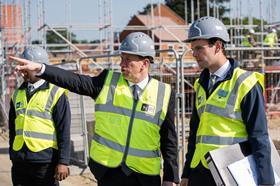 The country's biggest housebuilder has said business was brisk in the first 15 weeks of its new financial year.
Barratt said forward order sales were up 12% in the period up to 14 October compared to the same period a year ago, equating to nearly 13,000 units.
New developments were down nine to 53 but it said the number of outlets would grow over the full year compared to the previous 12 months.
Chief executive David Thomas (pictured, middle) said demand for housing was being helped "by positive government policy and the wide availability of attractive mortgage finance".