Icy weather blamed for 14% dip in first three months of 2018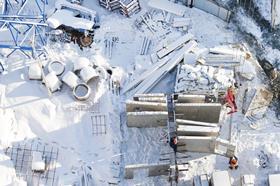 The freezing weather in February and March blew a chill through house registrations across the UK with some builders reporting 30 days lost on site, according to the National House Building Council.
The NHBC said the first three months of 2018 saw 14% fewer registrations – where a builder registers a new plot or home to be built in the coming months or weeks – compared with the same period last year.
Registrations were filed for 36,637 homes in the first quarter, versus 42,405 in 2017.
The latest data confirms what a number of companies and trade bodies have said about the impact of the 'Beast from the East' which cut an icy swathe through the construction sector earlier this year.
The NHBC cited anecdotal reports from some house builders who said they had lost up to 30 days on site in the first quarter of 2018 directly as a result of the arctic conditions.
It also pointed to skills shortages, Brexit concerns and "short-term market fluctuations".
Total registrations for the 12 months to the end of March 2018 fell 2% to 154,698, but was still the second highest recorded in a decade, the NHBC said.
Across the UK London and Northern Ireland saw the biggest annual hikes in registrations, up 29% to 19,177 and 3,363 respectively, while the North West posted a 17% to 15,162.
While the government recently committed to building a million new homes by 2020, of which 225,000 would be affordable the number of affordable homes registered in 2017/18 fell 4% to 38,247 units. Private sector registrations dipped 1.3% to 116,451.
But NHBC chief executive Steve Wood said business confidence in both the private and affordable sectors remained high, with what he called "clear routes to continued growth in 2018".