FMB says snow and freezing conditions have stalled work on sites across the country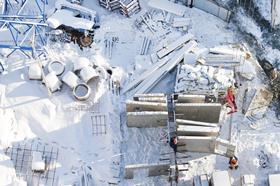 Construction sites across the UK have been forced to stop work due to heavy snow and sub-zero temperatures.
Sarah McMonagle, director of external affairs at the Federation of Master Builders, said: "Heavy snow showers have led to many construction sites across the UK grinding to a halt.
"Some construction bosses have told their staff to take the rest of the week off and not return to work until Monday.
"But it's not just the snow that's playing havoc with construction projects – some firms are reporting that the freezing temperatures mean it's too cold to lay bricks."
McMonagle said the weather disruption was of particular concern given a slowdown in the growth of SMEs in the last quarter of 2017.
She added: "The overall impact of bad weather on construction growth remains to be seen but this situation is concerning given that the FMB's latest research shows that growth among construction SMEs slowed in the final three months of 2017.
"We hope that the cold weather we have seen this week is just a blip and that all workers will be able to get back on site in coming days."
Much of Europe has been blanketed in snow as cold weather spreads across the continent.
The cold spell, which has been nicknamed 'the Beast from the East', is carrying freezing winds across the continent, and temperatures as low as -30C.
The freezing conditions are expected to continue over the coming days.
But the news is not all bad with government advice suggesting that if a place of work is forced to close due to the poor weather conditions, employees are likely to still get paid.
The advice says "if the workplace is closed because of disruption and the employee doesn't usually work from home, employers can't usually deduct pay" – although employees are not automatically entitled to pay if they are unable to get to work because of bad weather.