US firm said railway should not have given job to Balfour team because of flawed procurement process
HS2 has won a court case against Bechtel after the US firm said it should have been awarded the job to build the £1bn Old Oak Common station instead of a Balfour Beatty team.
Bechtel said its chance of winning the job was scuppered because of blunders the client made in its procurement process.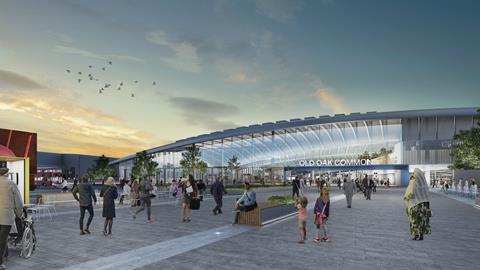 The west London job was awarded to a team of Balfour Beatty, Vinci and Systra, known as BBVS, two years ago.
But Bechtel challenged the decision and said it had cost it £100m of lost profit and revenue on top of the £3.5m it shelled out making its bid.
The US firm, which pulled out of bidding for the station scheme at Euston, eventually won by a Mace/Dragados team, in order to focus its efforts on Old Oak Common, claimed HS2 "ought to have and would have awarded" it the job had the client "conducted the evaluation of tenders for the Lot 2 contract [Old Oak Common station] properly".
In a claim lodged at the Technology and Construction Court a month after the award, it said the BBVS tender was "abnormally low" and would have "needed to increase the size of the management team proposed in its bid (and, therefore, its bid price) in order to deliver the Lot 2 contract 'in a manner that will be safe and aligned to HS2's wellbeing requirements'."
But in a 152 page decision, judge Mr Justice Fraser dismissed the claims and said BBVS had been shown to have won the bid assessment and that its tender was well within the range to be expected. He said the award had shown "procurement competition working fairly".
An HS2 spokesperson said: "We are pleased the judge has concluded that there was no error by HS2 in the scoring of Bechtel's tender nor the scoring of the winning consortium's [BBVS] tender and that the winning tender was not 'abnormally low' as had been alleged."
Main construction work on the station is now expected to start shortly.