Richard Howson adds that repairing problems with beams at Royal Liverpool Hospital cost firm £20m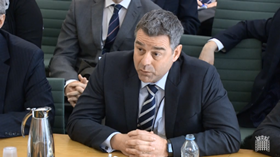 Former Carillion chief executive Richard Howson has publicly admitted the firm was owed £200m on a scheme in Qatar, adding that it was one of the biggest reasons why the firm went bust.
Howson, who was removed as chief executive last July following an £845m writedown, said that a handful of contracts helped push the firm into going bust.
He told MPs problems with cracked beams at Royal Liverpool Hospital had cost it £20m to fix, while the firm also ran up debts on two railway station contracts in Canada.
And he added that the firm should never had bid the Aberdeen bypass scheme in Scotland and which last month saw the firm's former partners, Galliford Try and Balfour Beatty, announce the cost of Carillion's collapse would leave them £80m out of pocket on the work.
Howson (pictured) told a joint House of Commons select committee looking into Carillion's collapse today: "But for a few very challenging contracts, predominantly in the Oman and one in Qatar, I believe Carillion would have survived."
The work in Qatar involved redeveloping downtown Doha ahead of the 2022 World Cup and was awarded by Qatari developer Msheireb in 2011.
It was due to be completed last May but Howson said it will not now be completed until the end of this year.
He said the contract remained unpaid for 18 months with Carillion owed £200m at the time of its collapse.
Howson said: "The customers changed the architect three times. They issued 40,000 new drawings within eight months. It's been a very difficult contract."
Howson said he visited the project in Qatar at least 60 times in the past six years in order to collect cash.
"I felt like a bailiff," Howson said. "Working in the Middle East is very different to working anywhere else. On the Qatar contract, because of the size of the contract, they hold performance bonds which are on demand. If you wilfully abandon they will pull the bonds even though they haven't paid.
"The only way to ensure that you are paid reasonably in the Gulf is through personal relationships with your customers. There is no point writing nasty letters, no point appointing lawyers, it's about being there and the give and take of delivery and receiving cash."
Howson said the appointment of a new Msheireb chief executive in 2014 briefly saw an increase in cash flow, but that ended in 2016.
Interim chief executive Keith Cochrane, who took over from Howson in July 2017 after the firm announced a £845m writedown, said his predecessor had told the board at a meeting held in Manchester in April last year that the bills were going to be paid but it never happened.
The problematic PFI Aberdeen bypass job also drew criticism, with Howson saying that given his time again he would not bid for the £745m project.
He said: "There's lots of things that we would do differently, that I would do differently in hindsight. I wouldn't have bid the Aberdeen Western Peripheral Route, I wouldn't have joined the bidding consortium given the losses on that."
The issues that hit the much publicised problem job at the Royal Liverpool University Hospital were also revealed, with Howson saying cracked beams were in part to blame.
He said: "We found a cracked beam. If I had walked you around Royal Liverpool a year ago it looked finished, paint on walls, ceiling tiles in, carpets down. We decided to remodel the whole structural frame using independent engineers to see if there was the potential for more cracked beams and there were eight cracked beams that needed remedial works.
"It took us two months to ascertain that and then took us four or five months to do the remedial works to these large concrete beams, which caused a delay to the end of the year. That added £20m of cost to our completion.
"It is a very exceptional event to find beams that have cracked that have been designed by a professional designer."
The firm also ran into problems on two railway station schemes in Canada, Howson added, which led Carillion in 2013 to pulling out of bidding for work in the country other than PFI schemes.