Titanic Belfast centre designer Todd Architects expands after winning two major Ballymore jobs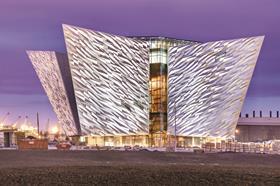 The leading Northern Ireland architect which designed the new £97m Titanic Belfast visitor attraction has opened an office in London.
Todd Architects also announced it has won two significant residential schemes in the capital from leading Irish developer Ballymore.
The projects are the completion of a penthouse apartment complex at Baltimore Wharf in the Docklands and an executive architect role on the Leamouth North brownfield redevelopment project in north London.
The firm's new office in Hammersmith will be led by principal John Chapman, former head of design at PFI specialist Kajima, who has previously worked on schemes the Printworks in Manchester, Heathrow Airport and Newcastle City Library.
Todd Architects managing director Paul Crowe said: "We have a strong record of delivering projects for both public and private sector bodies in London, including University College London, Kingston University, a number of London Boroughs, Westfield, Telereal Trillium and Mapeley.
"With the property market in London and the south-east of England continuing to improve we're keen to re-establish a physical presence in city and seek out new opportunities.
Chapman added: "Todd's expertise and reputation in a wide range of sectors made them a very attractive company to work for and I hope this, coupled with my own experience in areas such as urban design and masterplanning, will bring a new dynamic to the team."