Housebuilder announces 16th operating division set to open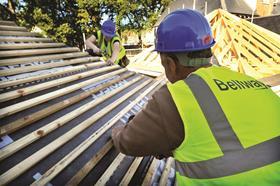 Bellway Homes has reported that its forward sales grew by almost one-quarter in the six months to the end of January, set against the same period 12 months ago.
In a trading update it said the value of its order book was £975m against £783m for the earlier period, while its completions were up 15.7% at 3,754.
Bellway said growth in the volume of work in the north of the country was "particularly strong", and that while the London market remained strong, price growth had moderated.
It said the rate of private reservations had slowed compared with the first half of the previous financial year because of an initial surge in activity following the introduction of the government's Help to Buy loan guarantee scheme.

Chief executive Ted Ayres said Bellway's housing revenue had risen by approximately 19% to more than £820m and that its operating margin for the first half of the year was expected to approach 20%, compared with 15.6% for the same period 12 months earlier.
"The group's strategy of delivering volume growth, with a strong focus on return on capital employed, has resulted in a further significant rise in profitability," he said.

"With advanced plans to open a sixteenth division in the second half of the financial year, Bellway is well positioned to deliver further earnings growth."

Ayers did not specify which area the division would cover.

Bellway's interim results are due on March 25.