Developer Berkeley Group retains Ian Simpson design but changes use from hotel to residential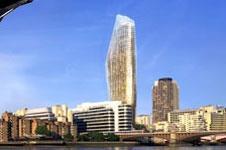 Berkeley Group has won planning for a 50-storey tower on the South Bank in London, next to Blackfriars Bridge.
The Ian Simpson-designed tower – formerly known as Beetham Tower – originally won planning five years ago, but the scheme was sold to Berkeley by original clients Beetham and Mirax.
Berkeley has kept on Ian Simpson but amended the interior to change the use from a luxury hotel to 274 private apartments a six-storey hotel and a four-storey building with retail space.
Southwark council approved the adapted scheme on Tuesday. The tower will generate nearly £30m to build affordable housing elsewhere in the borough.
A 'sky lounge' open to the public will be built on the 32nd floor of the tower and will be available to hire at reduced rates for local residents and schools.
Councillor Peter John, leader of Southwark Council, said: "This is an incredible amount of money and goes to show the great benefits for Southwark's residents in working proactively with private developers to drive forward investment despite a backdrop of recession.
"It will go some way to deliver homes the capital desperately needs, across all tenures, and will welcome in a further economic boost to the already-thriving borough of Southwark.
"I am particularly pleased to see that the local community will have access to what will be a stunning London landmark and look forward to seeing the sky lounge being put to use by local people and businesses on a regular basis."