Developer says work to be delayed by around two weeks following helicopter crash as work begins to remove damaged crane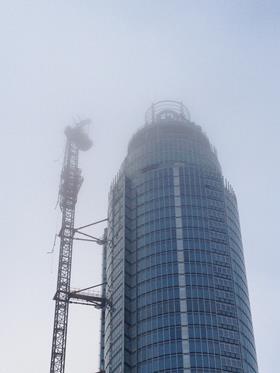 Developer Berkeley expects construction on its Vauxhall tower to be delayed by no more than two weeks following the crash of a helicopter into a crane on the 50-storey building in heavy fog yesterday.
A spokesman for the developer said this morning that emergency services have cleared the One St George Wharf tower site, where a helicopter struck a crane yesterday morning, killing two people and injuring 13.
He said the developer's primary aim now was to secure the crane, with work to start on that this afternoon after the arrival of one of the UK's largest cranes, which is en route to the site from the north of England.
The Berkeley spokesman said checks carried out on the building had found no issues following the impact. "The building's absolutely fine. We've had engineers in to check it. We expect to be back to full strength on site on the development within a fortnight - it's highly unlikely the construction timetable will be put back as a result," he said.
In Berkeley Group's interim results announced in December 2012, One St George Wharf was highlighted as one of seven major projects where delivering sales is crucial for it to deliver its predicted return to shareholders of £568m by the end of September 2015. The project is due to complete in summer 2014.
The main contractor on the site, Brookfield Multiplex, said this morning said it was "working closely with the emergency services, the Health and Safety Executive and crane specialists to ensure that the damaged crane sections are secured and then removed safely".
Concerns have been raised about the strength of the lighting on the crane on the One St George Wharf tower, known as the Vauxhall tower, with varying reports on whether the aviation lights were functioning at the time of the crash.
Police confirmed yesterday that whether the red warning lights on top of the crane were functioning correctly will form part of their investigation.
But the Berkeley spokesman said the developer had now confirmed that "the lights were on".
Yesterday Mayor of London Boris Johnson promised a review the lighting of cranes and tall buildings in the capital following the crash.
Meanwhile, the crane operator who was late for work when the helicopter crashed into the crane he works has told the BBC that he had overslept and now feels "very lucky".
Nicki Biagioni, 30, of Essex, said his two sons usually wake him him up at 5am but yesterday they slept an hour later and that saved his life.
He said: "I'm very lucky. It is unbelievable, I am still in shock, I can't believe it.
"If it wasn't for my boys not waking me up that would have been it."