Berkeley is in talks with Tower Hamlets to develop another building next to its South Quay Plaza tower.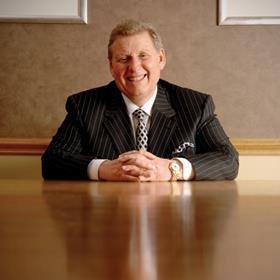 Berkeley Homes has taken control of a development site adjacent to its current Docklands development, known as South Quay Plaza.
The firm is reported to be planning a 210m tower on the new one acre site, which is next to the site of the planned 68-storey South Quay tower, the tallest residential tower planned in the UK.
A spokesperson for Berkeley did not comment on the size of the planned development, but confirmed it will add another 1 acre of "high quality public realm" to the existing South Quay masterplan as well as "important new housing."
The spokesperson said the firm was in pre-application talks with Tower Hamlets regarding the development.
Berkeley, which is controlled by chairman Tony Pidgley (pictured), is currently in the process of creating the UK's tallest residential skyscraper, South Quay Plaza, following final planning approval in April.
The tower, designed by Foster + Partners, comprises a 68-storey tower and a smaller 36-storey structure. At 215m, the main tower will be the highest residential building in the UK.
The development will comprise 888 residential units, ranging from studios up to four-bed flats, of which 188 will be affordable. There will also be ground-floor commercial units, car parking and landscaping. Three existing commercial buildings will be demolished.