Housebuilder says confidence returning in the capital
Berkeley Group has reported increased pre-tax profit of more than half a billion pounds for the year to March, despite the impact of the covid pandemic.
The London-focused housebuilder posted pre-tax profit of £518.1m, up 2.8% from the £503.7m it posted the previous year. Turnover was up nearly 15% to £2.2bn.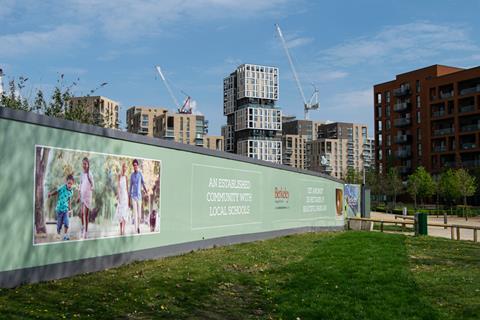 Revenue was primarily generated from the sale of new homes in London and the South-east, with 2,825 homes sold in those regions, up from 2,723 the previous year. The average selling price for homes sold also increased from £677,000 to £770,000.
But the total value of private sales reservations fell 20% as the builder delayed opening sites due to the covid-19 lockdowns.
It said: "In London, transaction levels have inevitably been impacted by the restrictions on travel and Berkeley's selective approach to market; deferring certain sales launches until restrictions are lifted and focusing on our established developments.
"However, enquiry levels in London are now ahead of pre-pandemic levels, signalling the return of confidence to the London market as we emerge from the restrictions of the last 15 months."
The housebuilder reported that demand outside of London was boosted by the government's Stamp Duty holiday "which helped to stabilise the market following the initial impact of the pandemic".
Berkeley added 10 new sites to its land holdings, which are expected to deliver 6,650 new homes as well as a further 1,500 homes through the re-planning of existing sites.
The firm said it has also "acquired or advanced a number of development opportunities that will come into the land holdings over the business plan period", representing a further 7,000 homes. The company said its land holdings now have the capacity to deliver 63,000 homes, of which 70% are on 29 large regeneration sites,
Its net cash dipped slightly by 0.9% to £1.13bn impacted by a drop in cash from operations and share buy-backs. Cash due on forward sales stands at £1.71 billion, down from £1.86 billion a year ago.
Rob Perrins, chief executive of Berkeley Group, said its core London market was coming back with the capital remaining "a global destination for culture, entertainment, education, recreation and business.
"London is one of the world's greatest open and welcoming cities and it has been wonderful to witness its vibrancy returning over recent weeks, with the gradual lifting of restrictions. People thrive on its energy, opportunity and unparalleled attributes."