Housebuilder reports strong growth as it aims to increase development by 50%
Berkeley has increased its earnings guidance for 2020/2021 by 5% and is now forecasting annual profit increases of 5% for the next three years until 2025.
The housebuilder today reported pre-tax profit of £290.7 million for the six months to 31 October, a 26% increase on the same period last year which was impacted by lockdown and 5% higher than in 2019 pre-pandemic.
Berkeley now expects earnings to grow 5%, after initially saying pre-tax profit for 2021/22 would remain at last year's level of £518.1m.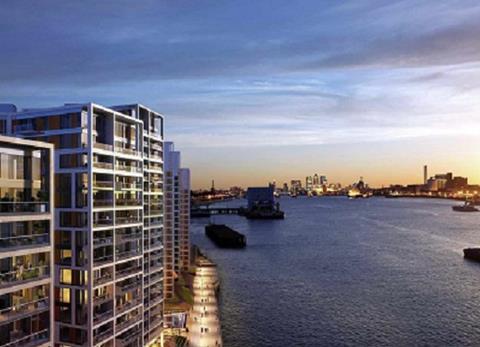 It also now anticipates profit to hit £625m by 2025, as it seeks to increase its build volumes by 50% from pre-pandemic levels.
It said this was due to "excellent visibility in our delivery pipeline, particularly through the long-term sites in land holdings which are in production, and the recovery of sales to pre-pandemic levels".
Turnover for the six months rose to £1.2bn, up 36% on last year and a 31% increase on the equivalent period in 2019.
The housebuilder, which focuses primarily on regeneration sites in London and the South-east, said sales reservations are now "slightly ahead" of pre-pandemic levels and a 20% reduction last year had been wiped out.
Rob Perrins, chief executive of Berkeley, said: "The performance reflects Berkeley's conviction and investment in its strategy over the last 18 months, which is focused on London and the South-east, the country's most under-supplied housing markets, in spite of the challenges presented by the pandemic, supply chain constraints and regulatory environment."
Berkeley sold 1,828 new homes in the six months, including 395 through joint ventures.
It has land holdings covering 94 sites, including 30 long-term regeneration projects with a combined £6.9bn of future gross profit and a short-term pipeline of 7,000 homes.
Berkely has added two sites to its land holding – a shopping centre in site Peckham, south London for 900 new homes and a site next to its existing Royal Arsenal London Riverside development for 500 new homes. It has also started work on four new regeneration sites, including the 1,300-home Bermondsey Place scheme in Southwark, and the 1,200-home Eight Gardens development in Watford, Hertfordshire.
In August, Berkeley announced plans to raise £400m to build low-carbon homes through the issuing of a green bond.