Take a look at the crisis which rocked the industry this year
Three economy-shrinking lockdowns seemed more than enough for the construction industry to deal with last year, but 2021 served up a new crisis that few saw coming.
From the beginning of the year, a global shortage of materials caused at least in part by the pandemic began to rapidly escalate as economies around the world roared back into life following much faster than expected covid vaccines rollouts.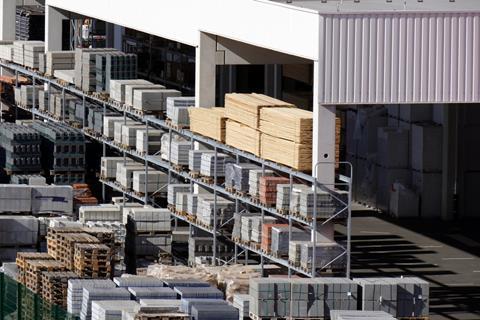 By April, alarm bells started to ring across the industry that rocketing prices for key materials such as steel and timber, which were showing no signs of stopping, could soon hit major projects.
At the height of the crisis in the summer, schemes across the UK were being forced to substitute products and reschedule programmes to work around the shortages as the sector's post-lockdown recovery went into reverse.
The pressure eased in the autumn as global supply chains started to get back on their feet, although issues still remain. Time will tell what impact Omicron, the new covid variant which threatens to trigger new lockdowns, will have on materials supplies next year.
Take a look at how the materials crisis developed over the year.
Covid blamed as construction faces 'significant issues' from materials shortages
Published: 28 January
The construction industry is facing a shortage of building materials thanks to disruption at ports caused by the covid-19 pandemic and a booming housing sector.
Core Five latest to warn of 'perfect storm' for spiking material costs
Published: 19 April
A "perfect storm" of spiking material costs is brewing as construction gears up for a post-lockdown rebound, Core Five has warned.
You can't build, build, build if you don't have the materials
Published: 11 May
Having somehow survived Brexit and the coronavirus pandemic, hard-pressed construction firms are facing another challenge. The global shortage of key products means prices are rising and lead times growing, potentially putting the recovery at risk.
CLC floats rationing materials as shortages worsen
Published: 25 May
The Construction Leadership Council is asking the industry to take a fair approach to materials distribution in the wake of worsening shortages – suggesting rationing to make sure smaller firms get their fair share of dwindling supplies.
Construction output slips again in the face of continuing supply chain disruption
Published: 10 September
Construction activity remained below pre-covid levels for the second month in a row as monthly output fell by 1.6% in July, according to the latest Office for National Statistics figures.
Materials shortages eased in August, CLC says
Published: 23 September 2021
There has been a slight easing in material shortages over the past month with lead times for some products starting to settle down, the Construction Leadership Council has said.
Hopes raised that worst of supply chain problems have peaked as output grows for ninth straight month
Published: 4 November
Output recovered in October with hopes being raised that the worst of the supply chain issues that continue to dog the industry may nonetheless have peaked.