Danish firm has revealed its design for Cross # Towers residential towers in Seoul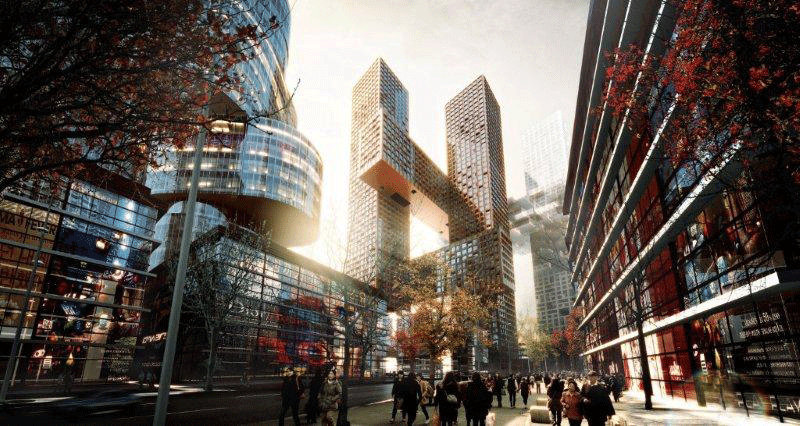 Danish firm BIG has revealed the design of the Cross # Towers residential towers in Seoul, Korea for developer Dreamhub. It is situated at the South-east edge of the Yongsan master plan, designed by Studio Liebeskind, in the new cultural and commercial centre of the capital city.
The 21,000m2 site includes two towers with a height of 214 and 204m and will offer over 600 high-end residences and amenities, including a library, gallery space and a nursery.
To meet the height requirements of the site, the exceeding building mass is transformed into an upper and lower horizontal bar, which bridge the two towers at 140m and 70m height. The towers are additionally connected through the arrival bar at the ground level and a courtyard below ground.
Bjarke Ingels, founding partner at BIG, said: "The Cross # Towers constitute a three-dimensional urban community of interlocking horizontal and vertical towers. Three public bridges connect two slender towers at different levels - underground, at the street and in the sky.
"Catering to the demands and desires of different residents, age groups and cultures the bridges are landscaped and equipped for a variety of activities traditionally restricted to the ground.
"The resultant volume forms a distinct figure on the new skyline of Seoul - a '#' that serves as a gateway to the new Yongsan Business District signaling a radical departure from the crude repetition of disconnected towers towards a new urban community that populates the three-dimensional space of the city."
Both the upper and lower bridge introduce rooftop sky gardens accessible to residents, allowing for outdoor activities, while a courtyard at the heart of the development is an integral part of the overall architectural design.
BIG was selected to submit a design proposal for Yongsan International Business District among 19 international offices, including SOM, Dominique Perrault, REX and MVRDV.