AHMM, RSHP and Hawkins\Brown chasing deal under £400m revamp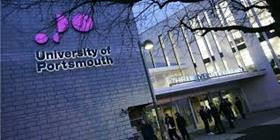 AHMM, Rogers Stirk Harbour + Partners and Feilden Clegg Bradley Studios are among five firms to be shortlisted for a scheme to design a new building at Portsmouth university.
The trio have been joined by Nicholas Hare Architects and Hawkins\Brown for the scheme, known as the New Academic Building, which will put the Faculty of Business and Law along with the Faculty of Humanities and Social Sciences under one roof.
It is also intended to be a gateway building to the northern part of the university's city centre campus and will include student support services, administrative and public space.
The contest, which has been organised by RIBA Competitions, will see the five work up their proposals ahead of a final interview with university chiefs at the end of October.
The scheme is part of a wider £400m masterplan the university is working on to upgrade facilities over the next decade.
Drawn up three years ago by Architecture PLB, others to work on the masterplan include Mace and engineer Max Fordham.