City council earmarks Snow Hill area for new business district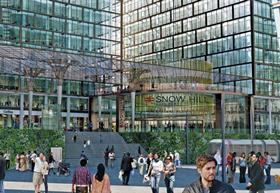 Birimingham City Council has unveiled plans to create its own Canary Wharf-style business district in the city centre's Snow Hill area.
The council has earmarked the area for £600m of development work and around 200,000 sq m of new office space around a redeveloped Snow Hill station.
Birmingham City Council leader Sir Albert Bore said: "Birmingham is putting in place the building blocks for a global business and financial centre. The city is already investing heavily to ensure that firms have everything they need to thrive here.
"The Snow Hill Masterplan provides a bold and exciting proposal for how Birmingham can continue to grow its thriving business and professional services sector. With time, we want the city to replicate the success of Canary Wharf, with areas like the Snow Hill district forming the cornerstone of this vision."
A six week period of public consultation on the Snow Hill masterplan will run from 9 February until 23 March 2015. Details of the strategy can be found at www.birmingham.gov.uk/snowhillmasterplan.