Revamp drawn up by Associated Architects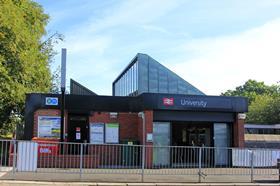 The search for a contractor to more than double the capacity of a central Birmingham station ahead of the Commonwealth Games in 2022 has begun.
University station will be an important travel hub during the Games as it is the closest station to Birmingham university, which will host the hockey and squash events during the 14-day event.
The station (pictured), which is being redeveloped by the West Midlands Combined Authority (WMCA), is currently used by around 3.5 million passengers each year, with the proposed upgrade expected to increase capacity to 7.2 million.
It was originally designed to cater for 400,000 passengers a year when it was built in the 1970s.
In a Prior Information Notice, the WMCA said: "The scope of works involves the redevelopment and construction of University Station to a Category B station."
A station is classified as category B if it is deemed a regional interchange.
Initial proposals (pictured below) for the revamp, which have been drawn up by Birmingham-based Associated Architects, were revealed late last week.
The designs are being finalised and will be published for public consultation later this summer.