Electricians vent their anger as unions claim contractors are demading up to a 35% cut in pay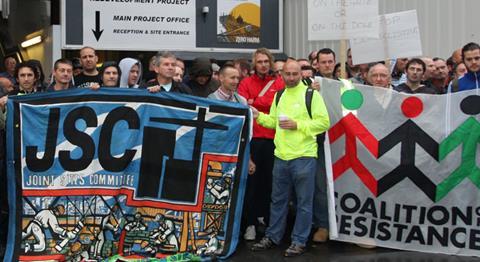 There were more workers than normal gathered outside the site entrance of Blackfriars Station this morning.
And they weren't working for Balfour Beatty, the main contractor on the £350m redevelopment of the Thameslink station.
They were protesting about potential wage cuts for electricians and around 100 were making themselves heard above the din of the early morning traffic. "Let's go out there and take those f*** down," a man shouted. Another carried a board that read "Enough is enough".
They felt reason to be aggrieved. First it was a wage freeze back in January 2011, now electricians are angry over the prospect of major contractors pulling out of a 40-year industry wage agreement between contractors and workers, with unions claiming workers face up to a 35% cut in pay.
Eight major electrical contractors, including Balfour Beatty Engineering Services, are planning to ditch the Joint Industry Board (JIB) agreement that was founded in 1968, from March next year. The contractors deny workers face a wage cut.
John Corkerry, 52, who's worked as an electrician for the last 35 years, was worried about his son's prospects as he enters into the business through an apprenticeship. He said: "We're not just here fighting for ourselves, we're fighting for the future. It's not even worth coming into the industry now."
The consensus on the ground was that "the fat cats are getting fatter and the rest of us are paying the price". These words came from one man who didn't want to be named but claimed contractors were charging the same for projects while cutting wages to boost profit margins.
The recession has emboldened contractors to cut wages

Barry Smith
I wanted to know why the bigger contractors had decided now was the time to break with an agreement that's stood for so long. There were attempts in 1991 and 1997 to cut industry wages and overhaul the agreement, though these were thwarted by protest.
When I ask, I'm told by a few people there that they feel the renewed vigour from contractors is timely. "The recession has emboldened contractors to cut wages," claimed Barry Smith, 39, an electrician who believes he's been blacklisted. "They think with the recession that they can force our hand."
The demonstration intensified with trade union representatives addressing the protesters, armed with megaphones. Steve Kelly, Unite's London and South-east branch secretary, called for Balfour Beatty workers to come out and join them on the picket line at 8am. "It will be a tough fight but if we get together we can do it", he said.
As far as I could tell Balfour Beatty workers ignored the call and continued on their way to work, weaving through the throng of peaceful but determined protesters.
"There's a big turn out today," said Smith "but it's just the beginning."