Zafar Khan says schemes including Liverpool hospital and Aberdeen road not the real reason why firm went bust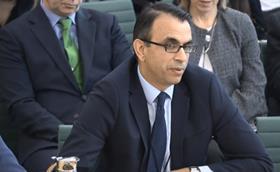 Former Carillion finance director Zafar Khan has blamed the company's catastrophic collapse on its long term debt position rather than a small number of problem contracts.
In a letter to the chairs of the joint parliamentary inquiry into Carillion's liquidation, Khan said it was the firm's eye-watering debt level, which including its pension deficit was around £1.5bn when it collapsed, that was responsible for sending the company under.
MPs had heard from a number of directors, including former chief executive Richard Howson, that a handful of schemes, including the deal to build a road bypass around Aberdeen, the Midland Metropolitan Hospital and the Royal Liverpool Hospital, fatally hobbled the firm.
But Khan wrote: "I would not want to suggest that these contracts were the principal cause of Carillion's problems. My belief is that the level of Carillion's debt which had been allowed to grow in previous years was the principal contributing factor to the difficulties Carillion experienced in 2017 as trading conditions worsened."
Khan said during the process which saw him appointed group financial director on January 1 2017 he had sought reassurance that the board would support making debt reduction a priority in 2017.
He said: "I recognised that the existing level of debt presented significant risks to Carillion (as subsequent events have sadly demonstrated)."
Khan, whose contract was terminated after just eight months on the job, also expressed his confusion as to why he was sacked.
Speaking at the evidence session three weeks ago, Khan said he was fired because he "spooked" Carillion's board with a financial update that showed there had been a decline in the company's position since the £845m contract writedown last July.
But in his letter, Khan admitted he was surprised by the reaction as it "should have been apparent to the board by then that the company was struggling to improve both its net debt and profit positions".
While labelling Khan as "hapless", Labour MP Frank Field, co-chair of the inquiry, said the other directors appeared keen to set him up as the "fall guy".
Field, who chairs the work and pensions committee, added: "It is not lost on us, however, that he inherited Carillion's mountain of debt."