Famous Earl's Court Exhibition Centre set for demolition under 6,700 home scheme designed by Farrells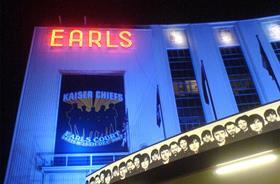 Plans for an £8bn redevelopment in Earls Court and West Kensington have been approved by the Mayor of London.
The 6,700-home scheme, drawn up by architect Farrells, involves demolishing two estates and the famous Earls Court Exhibition Centre to make way for four 'villages' and a new 'high street'.
But the 32ha scheme, straddling the boroughs of Kensington & Chelsea and Hammersmith & Fulham, has been fiercely opposed by local campaigners, who have argued that the exhibition centre should be listed and existing homes preserved.
The EC Properties project was passed to the mayor for his consideration after being given the go-ahead by both Kensington & Chelsea council and Hammersmith & Fulham council last year.
Mayor Boris Johnson, said: "I'm in no doubt that the development proposed for Earls Court and West Kensington will provide a massive boost not just to this part of the capital, but to London's wider economy as well.
"It is a landmark project that will deliver much needed jobs, new homes and improved infrastructure and will make this strategically important part of the capital an even better to place to live, work and visit.
"I am acutely aware of the concerns that some residents affected by the project have but I'm reassured by the measures being taken by both councils and the developer to make sure the needs of local people are properly addressed.
"Having weighed up all of the considerations I'm of the firm view that this is a project that will deliver huge benefits to the area and beyond for years to come."
Labour London Assembly Member Tom Copley said on Twitter: "Very disappointed but not at all surprised that the Mayor has approved demolition of Earls Court Exhibition Centre.
"An appalling decision."
The development is expected to take 20 years to complete.