Construction of 1.45m sq ft scheme on London's South Bank will begin by end of the year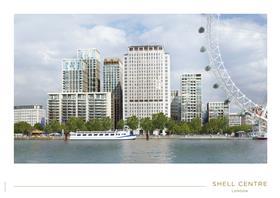 The Mayor of London Boris Johnson has approved the 1.45m sq ft redevelopment of the South Bank's Shell Centre, paving the way for construction to begin by the end of the year.
The mixed-use scheme on the South Bank has been masterplanned by Squire & Partners and is being developed by the Braeburn Estates, a joint venture between Canary Wharf Group and Qatari Diar.
Canary Wharf Contractors will build out the scheme.
Six architects – including Squires, KPF and Stanton Williams – have designed elements of the 5.25-acre mixed-use scheme, including eight new towers.
The scheme will retain the famous 27-storey Shell Centre Tower and the building's main occupier Shell will take a further 245,000 sq ft of office space in the wider scheme.
The development is planned for completion in 2019.
The scheme will comprise of 800,000 sq ft of office space (including the Shell Centre Tower), around 80,000 sq ft of retail units, restaurants and cafes and 790 new homes, including affordable housing.
The other buildings are designed by Squire & Partners, Patel Taylor and GRID Architecture. Townshend Landscape Architects has designed the landscaping and public realm.