Rick Mather, Hawkins Brown and Maccreanor Lavington appointed by mayor to come up with plans for development of Heathrow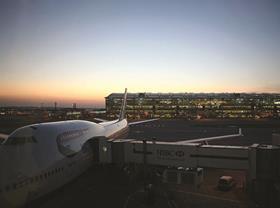 Boris Johnson has appointed architects Maccreanor Lavington, Hawkins Brown and Rick Mather Architects to come up with design proposals for turning Heathrow airport into a major new urban development in a bid to bolster his case for a new airport in the Thames Estuary.
The mayor of London has given the three practices six weeks to deliver ideas covering several different options for the redevelopment.
These will be based on a report produced for the mayor last year by Jones Lang LaSalle and PBA which came up with the "Heathrow City" recommendation.
This envisages a new residential quarter, plus knowledge parks and offices, developed around existing transport infrastructure.
Some terminal buildings would survive and be converted into retail and convention centre facilities. Rogers Stirk Harbour's terminal 5 opened six years ago and Luis Vidal's terminal 2 does not open until next month.
The report claims the site could support 90,000 new jobs and provide homes for 190,000 people if the airport is relocated.
A hub airport in the Thames Estuary is one of the proposals still being considered by the Davies Commission, which is examining options to expand airport capacity, as it prepares to make its final recommendation to the government next summer.
The others involve more runways at Heathrow and Gatwick.
Daniel Moylan, the mayor's chief advisor on aviation, said: "We have now appointed innovative, creative practices and look forward to them bringing forward designs that will very clearly demonstrate the quite incredible opportunities in front of us."
Darryl Chen of Hawkins Brown said: "Rarely do you have the chance to directly influence the future form of the city at this scale and this close to London. We look forward to the intellectual challenge this commission offers."
Gavin Miller, partner at Rick Mather Architects, said they were looking forward to the challenge.
Meanwhile New London Architecture (NLA) has been asked run a series of events to encourage debate about the need to increase airport capacity and provide for an expanding population.
This is expected to include a series of round-table discussions and an exhibition focusing on the potential for redevelopment of Heathrow.
NLA chairman Peter Murray said: "The location of new infrastructure to increase airport capacity while ensuring we enhance the quality of life for Londoners is one of the most important topics of the day and we are pleased to assist in giving these proposals a good airing."