Mayor lays out his case for £16bn transport megaproject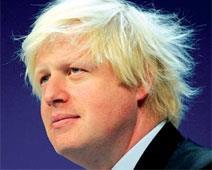 Mayor of London Boris Johnson has set out his case for building the £16bn Crossrail 2 rail which he has argued is "essential" to provide capacity for "future growth".
The new cross London line would entail building a rail link from the South West of London to the North East of the capital.
Although the final route is yet to be decided, the mayor and Transport for London said today they would ask the government to safeguard the proposed regional route, the longest option, which runs from Epsom to Cheshunt.
The safeguarded route will also now include a spur to Hackney central that could be further extended at a later date.
Speaking at the City Age conference today, Johnson said Crossrail 2 was an "essential infrastructure project" because the population of the capital was expected to reach 10 million by 2030.
He said: "With London's population soon to surpass its previous 1939 peak of 8.6 million, and with more people travelling by Tube and rail than ever before, we need additional rail capacity to support future growth.
"For the capital to remain globally competitive there needs to be continued investment in our transport network and that's why we have to get cracking on planning for Crossrail 2."
A recent consultation showed 80% of people supported the scheme.