Mayor of London considering Stansted Airport expansion as an option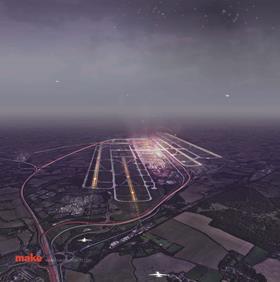 Boris Johnson is reportedly funding research into expanding Stansted Airport to four runways as a way to ease the UK's aviation capacity problems.
The Times reports that the Mayor of London has commissioned a £3m feasibility study into expanding Stansted.
A plan to expand Stansted to four runways was originally floated by Make Architects in October.
But Johnson has previously favoured an airport in the Thames estuary, similar to the visions being developed by architects Foster + Partners and Gensler.
But the Times reports that Stansted is now being looked at as a compromise candidate for air capacity expansion.
Sir Howard Davies is currently conducting an independent inquiry into UK airport capacity, including the options for new airports in the South East and is due to report in the summer of 2015.