Mayor of London approves controversial development on site currently occupied by Royal Mail sorting office in Farringdon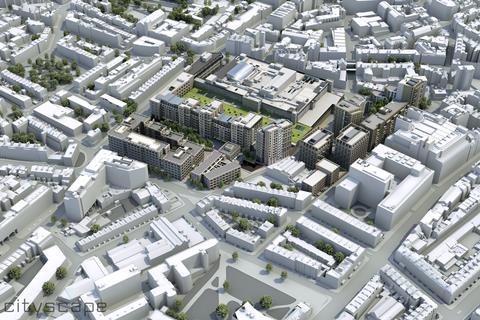 Boris Johnson has approved the controversial Mount Pleasant development after a bad-tempered three-hour planning meeting at City Hall today.
Royal Mail is proposing to build homes, shops, offices, restaurants and public space on half of the site currently occupied by its Mount Pleasant sorting office in Farringdon, with the remaining half to continue as a postal sorting office employing up to 3,000 people.
Today London's mayor said the 671-home scheme in central London was "imaginative" and would help solve London's housing crisis.
But the meeting was repeatedly interrupted by members of the public who called out to ask why they were not allowed to speak at a public meeting, jeered at the designs and questioned the affordability of the "affordable" homes.
Islington councillor James Murray told the meeting: "With no developer on board this is a cynical exercise by Royal Mail to maximise the value of the land asset at the expense of affordable homes for ordinary Londoners."
"With just 24% 'affordable' housing you will be handing over a huge windfall to Royal Mail which we estimate to be worth at least £30m."
Their objections were over-ruled and the meeting heard that GLA officers were satisfied by the Royal Mail's viability statement and felt it would "meet local needs" - a statement which was greeted by snorts of derision from the crowded public gallery.
The 10 buildings, rising to 15 storeys, were designed by AHMM, Allies & Morrison, Feilden Clegg Bradley and Wilkinson Eyre on a 3.5ha site owned by Royal Mail Group, next to its sorting office in north London. They were described as being a new London vernacular.
Locals - including Thomas Heatherwick who branded it "empty, cynical and vacuous" - complained that the scheme was over-development.
But Johnson described the masterplan as "well-considered" and praised the scheme's active frontages, place-making principles and design quality.
"The scheme includes well-defined public and private spaces, amenity and play spaces, and landscaping elements that are well integrated in the surrounding streets," the officers' report recommending approval said.
Johnson said there was "no reason" why work could not continue on a rival proposal drawn up by Francis Terry and Alexandra Steed for the Mount Pleasant Association and lobby group Create Streets.
Royal Mail Group property director Martin Gafsen said: "I am delighted that the Mayor has given permission in principle for us to develop parts of our Mount Pleasant site in central London that are surplus to our operational requirements. This is a great opportunity for us to contribute to the regeneration of the area around our iconic mail centre building.
"The next step for Royal Mail is to complete the design of the pre-development works at Mount Pleasant, which are vital to separate our mail operations from the planned residential areas. Royal Mail will continue to work with the GLA, local authorities, businesses and the community as we progress with our development."
This story first appeared on Building Design.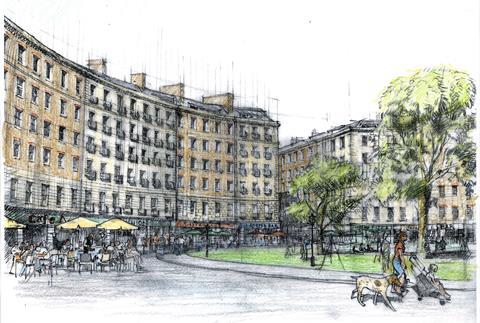 Postscript
This story was updated to include a comment from the Royal Mail