Bennetts-designed redevelopment of historic London Fruit and Wool Exchange approved despite local opposition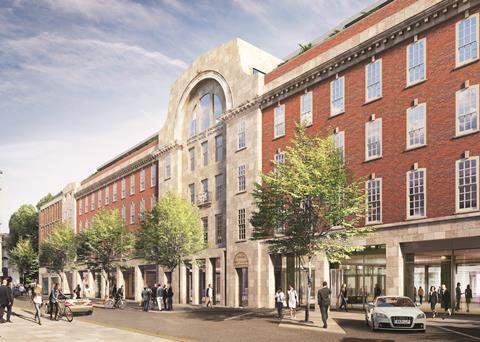 Boris Johnson has given the green light to controversial plans designed by architect Bennetts Associates to redevelop the London Fruit and Wool Exchange in Spitalfields, east London.
At a public hearing in City Hall last night, the mayor of London approved the plans, which retain the building's historic façade while delivering 36,000 square metres of office space and 3,000 square metres of retail space.
In June, Tower Hamlets council said it was minded to refuse planning permission for the application, which has been broight forward by Exemplar and the City of London. But the mayor used his powers to approve the application.
The plans will see the demolition of a multi-storey car park and the partial demolition of the London Fruit and Wool Exchange, with the erection of a six storey building for office and retail use .
The Mayor's office said the site and its location was "vital to the prosperity of this fast developing part of the capital and to London's wider economy".
Johnson said: "The historic London Fruit and Wool Exchange, in the heart of London's East End, is a former commercial epicentre to which producers and buyers flocked from miles around to do business.
"These plans will not only restore the façade to its former glory, but regenerate the Spitalfields area with thousands of new jobs, and brand new commercial opportunities. It will also make a vital contribution to the wider London economy and have a significant impact not just on Tower Hamlets but on surrounding boroughs as well.
"I can find no reason to refuse permission and am of the firm view that this ambitious and important redevelopment should go ahead."