Vast Wood Wharf scheme designed to transform last derelict corner of Canary Wharf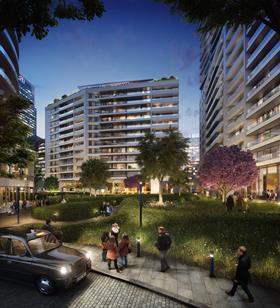 Boris Johnson has approved plans for the 4.9m sq ft Wood Wharf development in London's Docklands.
The London mayor has given the green light for the scheme, which is designed to create 3,610 homes and more than 17,000 jobs on the vast 13.6 ha site at Wood Wharf that has been semi-derelict for decades.
In addition to new housing, the Canary Wharf Group's plans include 1.9m sq feet of office space in variety of units that will be targeted at technology, media and telecoms occupiers as well as Canary Wharf's traditional staples in the financial and professional services sectors.
There will also be up to 35,000 sq m of high street shops designed to complement Canary Wharf's existing shopping centre offer.
In addition, the scheme features a hotel, leisure facilities, a new primary school for 420 children, a GP surgery, a community centre, a library and a network of parks and public squares.
Canary Wharf will also be contributing more than £60m towards Crossrail and an additional £27.5 m for other infrastructure needs, including over £10m for local transport improvements.
At least 25% of the new homes will be affordable with a review mechanism put in place that could see the number of such dwellings rise to 40%. Of the non-market homes, 80% will be affordable rent and the remainder will be intermediate housing.
The first phase planned will include 884 residential units in three buildings, designed by Herzog & de Meuron and Stanton Williams, totalling 1,080,179 sq ft, and two office buildings totalling more than 216,000 sq ft, designed by Allies and Morrison. The centrepiece of the scheme will be a 57-storey cylindrical residential skyscraper facing the waters of South Dock, designed by Herzog & de Meuron. The scheme, which received planning approval from local planning authority Tower Hamlets, has been timetabled for completion by 2018.
Johnson said: "This vast development will transform a currently derelict brownfield site beyond all comprehension into a thriving new community with thousands of new homes and jobs. This is exactly the kind of scheme that we need to accommodate London's booming population that is set to break through the nine million mark within the next decade."