Railway's management structure in line for overhaul
Boris Johnson has criticised the management of HS2 Ltd, promising to appoint a full-time minister to oversee the work as he confirmed the £100bn project will go-ahead.
A new HS2 minister will be charged with keeping tabs on the project while a new ministerial oversight group will take strategic decisions about the scheme, as well as overseeing changes to the way the job is managed.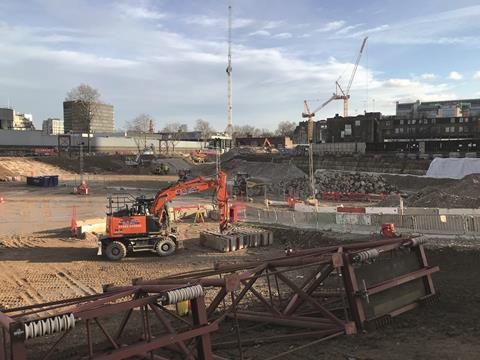 Speaking in the House of Commons this lunchtime, the prime minister told MPs: "When it comes to advocating for HS2, the task is not made easier by the company HS2 Ltd.
"I cannot say that HS2 Ltd has distinguished itself in the handling of local communities. As everyone knows the cost forecasts have exploded."
But he admitted HS2 Ltd's failings did not mean the scheme should be pulled.
He added: "Poor management to date has not detracted from the fundamental value of the project. The review recently conducted by [former HS2 chairman] Douglas Oakervee leaves no doubt of the clinching case for high speed rail."
The 130-page Oakervee review, commissioned by the government last August, has recommended that Old Oak Common, due to be built by a Balfour Beatty team, be used as a temporary London terminus while work at the Euston HS2 station, being carried out by a Mace and Dragados team, is completed.
He said: "I will be creating new delivery arrangements for both the grossly behind schedule Euston terminus and phase 2b of the wider project but before the designs are behind."
These are expected to see the Mace team brought together with the Lendlease team, the firm behind the planning and developer for the wider station site, into one group along with clients Network Rail and Transport for London.
In his report, Oakervee recommends setting up "one organisation to bring together all the stakeholders and this should not be HS2 Ltd".
Johnson said the full route, which will run from London to Birmingham and on to Manchester and Leeds, would be built but progress came with several caveats.
He said the government was reviewing the best way to deliver phase 2b, which covers the Crewe to Manchester and West Midlands to Leeds stretches of the railway, and was drawing up an integrated plan for rail services in the north of England.
He said he was committed to building both these sections of HS2 and Northern Powerhouse Rail and wanted a plan of how best to integrate their delivery.