Mayor of London promises to review the lighting of cranes and tall buildings in the capital following the crash of a helicopter into Vauxhall tower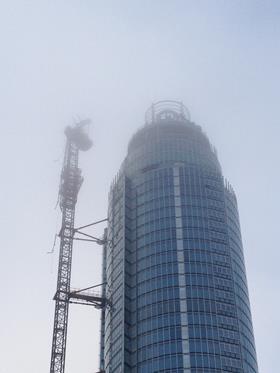 Boris Johnson has promised a review the lighting of cranes and tall buildings in the capital following the crash of a helicopter into the Vauxhall tower this morning.
Speaking to media at the site of the crash, Johnson said although it would be "premature" to second guess the investigation into the crash, his office would look at the issue of the lighting of tall buildings.
He said: "What is inevitable is that we'll want to review all our policies, we'll want to look at the way we illuminate tall buildings, the way cranes are illuminated, to make sure nothing went wrong in this case and make sure nothing goes wrong in the future."
Concerns have been raised about the strength of the lighting on the crane on the One St George Wharf tower, known as the Vauxhall tower, after a helicopter collided with the 50-storey building's tower crane in heavy fog and crashed in flames in a nearby street, killing two people and injuring 13.
Police confirmed earlier today that whether the red warning lights on top of the crane were functioning correctly will form part of their investigation.
Johnson said: "There are all sorts of questions that people are asking now about tall buildings, about lighting, about the fog, about the usage of Battersea heliport and those are very understandable questions in these circumstances.
"People will naturally want to know that we are doing our level best to make sure that London is protected from aviation accidents of this kind.
"Those are matters that are now being investigated, it would be wrong for me to pre-empt any of that."
"This is going to be the issue that people will want to discuss. They will focus on traffic going into Battersea.
"I really think it would be very premature at this stage to second guess what the Air Accidents Investigation Branch say."
Johnson the accident could have claimed many more lives, but workers were now "very confident" the broken crane was secure.
The London Fire Brigade said this afternoon that there is "no imminent risk" of the crane at the Berkeley construction site collapsing.
He said: "It's a tragic scene of the wreckage of a carbonised helicopter and of course a great deal of damage done to an adjacent building. It doesn't take a great deal to imagine what could have happened had that helicopter crashed into a bus or a heavily occupied building.
"Obviously our thoughts are very much with those who have lost their lives, their families and all those who have been injured, but it is also true that it could have been much worse."