Boris Johnson urges government to get started on big infrastructure projects, including an airport in the Thames estuary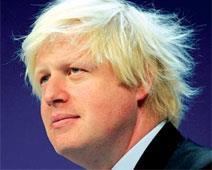 Boris Johnson has urged the government to "stop pussyfooting around" and get moving on a range of infrastructure projects, including a new airport, in a bid to boost the ailing economy.
In an interview, the mayor of London said London was the "motor that can drive growth" to the rest of the UK and that while the chancellor George Osborne was "up for" big ideas, such as a new airport in the Thames estuary, the prime minister David Cameron remained unconvinced.
He said: "The way to get business really motoring in the UK is to cut taxes, cut regulation, create the infrastructure and get behind it. That's what you should do," Johnson told the Evening Standard.
He said outlined a clutch of ambitious projects, including a second Crossrail initiative, more river crossings and a "massive'' house-building programme for the capital.
He added that the government's decision to delay the publication of a consultation into Britain's airports was "totally mad" and reiterated his support for a four-runway airport hub in the Thames.